The batteries
Example: The copper/zinc Daniell cell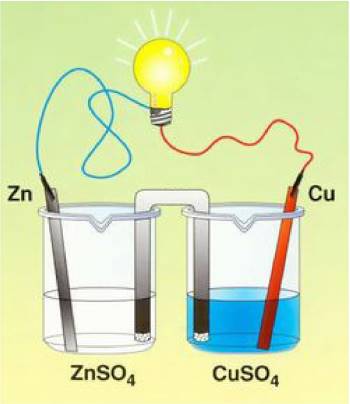 A permanent electrolytic bridge (which could be replaced by a semi-permeable membrane) filled with a solution of sodium sulfate prevents the direct contact of $Cu^{2+}$ and $Zn$ If $Cu^{2+}$ and $Zn$ were in contact, they would react normally: $Cu^{2+}$$ +Zn \longrightarrow$ $Cu$$+Zn^{2+}$ The electrical conductor allows the indirect electron exchange
$Zn$ $-$ $2e^-$( pass through the conductor )$\longrightarrow$ $Zn^{2+}$ $Zn^{2+}$ ions pass into the solution, therefore this compartiment takes a positive charge. $Cu^{2+}$$+$ $2e^-$( come from the conductor )$\longrightarrow$$ Cu$ $Cu$ is deposited on the electrode, $Cu^{2+}$ ions disappear, therefore this compartiment takes a negative charge due to the excess of sulfate ions In the electrolytic bridge (or semi-permeable membrane) charges are compensated: - $Zn^{2+}$ ions migrate to the right - sulfate ions migrate to the left
Generalisation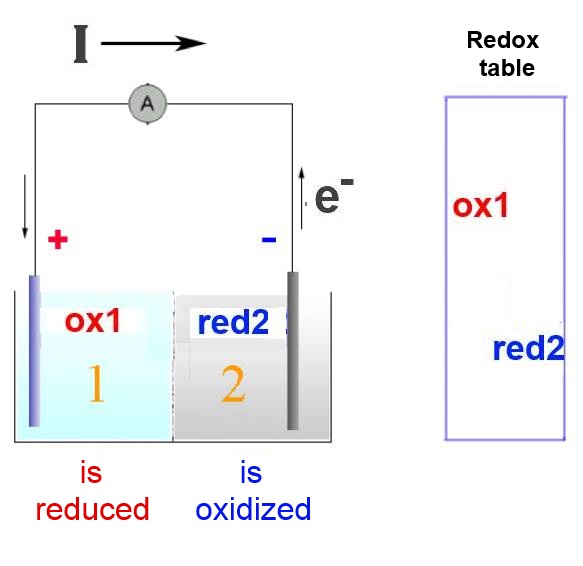 Oxydant 1 is strong enough to take electrons from reductant 2. But they cannot react directly because of the semi-permeable membrane or the electrolytic bridge separating them. So..
The normal exchange of electrons happens through the conductor of the external circuit.
In compartment 2, the reductant 2 looses its electrons to the external circuit: It is oxidised. In compartment 1, the oxidant 1 takes electrons from the external circuit: It is reduced.
In the external circuit, the electrons travel from the strongest reductant 2 to the strongest oxidant 1.
In this way an electrical current is produced with intensity I whose direction ( conventional direction of physics ) is the opposite of the direction taken by the electrons . In physics, I has always the direction from the positive pole of an external circuit to the negative pole.
The positive pole of the battery is therefore to be found on the side of the strongest oxidising agent The negative pole is on the side of the strongest reductant.
The losses or gains of charge in the two compartments will be compensated by the migration of anions or cations through the semi-permeable membrane or the electrolytic bridge